Welcome to HANSdoc!
Willkommen bei HANSdoc!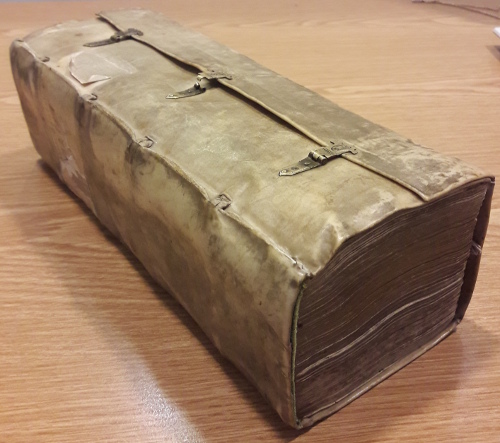 HANSdoc is a database of primary sources pertaining to the trade of North German (Hanseatic) towns with the North Atlantic islands (Iceland, Shetland and the Faroe Islands) in the 15th-17th centuries. Of many of these documents, kept in various archives in Germany, Denmark, the United Kingdom and elsewhere, there exists a transcript and/or a digital facsimile. For more information about what HANSdoc is, what it can do for you and how to use it, visit the Documentation page.
HANSdoc ist eine Datenbank mit Primärquellen mit einem Bezug zum deutschen (hansischen) Handel mit den nordatlantischen Inseln (Island, Shetland und den Färöern) im 15. - 17. Jahrhundert. Von vielen Dokumenten aus unterschiedlichen Archiven in Deutschland, Dänemark, dem Vereinigten Königreich und in anderen Ländern, wurde eine Transkription und/oder ein digitales Faksimile aufgenommen. Bitte besuchen Sie die Dokumentationsseite für technische und inhaltiche Informationen sowie eine kurze Benutzeranleitung.
HANSdoc is the result of the research project Between the North Sea and the Norwegian Sea. Interdisciplinary Studues of the Hanse. The project, led by Natascha Mehler, was carried out from 2015 to 2018 at the German Maritime Museum in Bremerhaven and was funded by the Leibniz Association.
HANSdoc ist ein Ergebnis des Forschungsprojektes Zwischen Nordsee und Nordmeer. Interdisziplinäre Studien der Hanse. Das Projekt wurde zwischen 2015 und 2018 am Deutschen Schifffahrtsmuseum in Bremerhaven durchgeführt, geleitet von Natascha Mehler und gefördert von der Leibniz-Gemeinschaft.
The majority of the documents included in HANSdoc consists of charters, letters, diplomatic correspondence, and legal documents. These have been indexed on persons, places, commodities, and ship names and types mentioned in them. They can be searched for by using any of the search fields above. A search with blank search fields will return all results. Moreover, a full-text search is available, which will search both the document descriptions and transcripts.
Die Mehrheit der Dokumente in HANSdoc besteht aus Urkunden, Briefen, diplomatischer Korrespondenz und Gerichtsdokumenten. Diese wurden anhand von Personennamen, Ortsnamen, Handelswaren und Schiffsnamen- und Typen erschlossen, die in den Dokumenten erwähnt wurden. Diese können mittels der oben gezeigten Suchfelder durchsucht werden. Eine Suche mit leeren Feldern zeigt alle Ergebnisse. Außerdem ist eine Volltextsuche verfügbar, die sowohl die Beschreibungen als auch die Transkriptionen durchsucht.
Bitte beachten Sie, dass die Beschreibungen der Dokumente in englischer Sprache verfasst sind, d.h., dass die Suchergebnisse größtenteils in englischer Sprache gezeigt werden. Die Transkriptionen werden allerdings in der Originalsprache gezeigt.
Alongside these documents, HANSdoc contains a small number of larger registers, which, due to their size and long timespan, have not been fully indexed and will therefore not (always) show up in the search results. However, they can be accessed below. These are:
Neben den oben genannten Dokumenten wurde eine kleine Anzahl an größeren Registern aufgenommen, die wegen ihrer Größe nicht vollständig durchsuchbar gemachten werden konnten, und deswegen nicht (immer) in den Suchergebnissen angezeigt werden. Diese werden im Folgenden separat aufgelistet.